Camino de Santiago by bike
Covering 380 km from Rambouillet to Châtellerault via Tours, this is the part of the Way of Saint James that is most popular with cyclists, since it is relatively flat. In Touraine, the "Via Turonenis" (Tours route) runs alongside the Brenne area towards the Vouvray wine region, before going south towards the Vienne valley.
Camino de Santiago by bike map
Interactive maps:  between Chartres and Tours & between Tours and Poitiers
Brochures to download: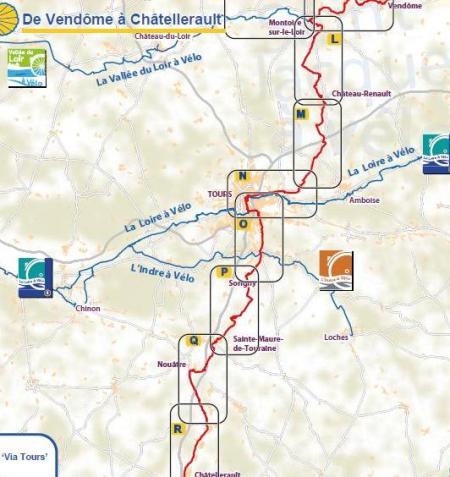 In Vendôme and Châtellerault, the train stations are an easy way to get to and from the cycling routes. So, it's simple to plan out an excursion lasting 2 or 4 days, depending on the daily distance you want to travel:
– Between Vendôme and Tours: 94 km (stopover possible at Château-Renault)
– Between Tours and Châtellerault: 84 km (stopover possible at Sainte-Maure-de-Touraine)
If you need to rent a bike, keep in mind that there is several rental shops in Tours.
Stopovers for visitors to Touraine
On the way, alongside our high-quality accommodation, there are many interesting sights to see, making a break well worthwhile along the Way of Saint James by bike (GR 655). Here's a non-exhaustive list:
The park of Château de Renault, with rare varieties of trees
The gardens of the Château de Valmer in Chançay
The Château de Jallanges in Vernou-sur-Brenne
In Rochecorbon, you can board the Rabouilleuse for a wonderful hour-long trip along the River Loire
The city of Tours: Saint-Gatien Cathedral, the CCCOD – and the magnificent Place Plumereau
Sainte-Catherine-de-Fierbois Church, where Joan of Arc found her sword
Les Passerelles in Sainte-Maure-de-Touraine (with a chance to taste the famous goat cheese)
The Maillé memorial house, a village marked by the Second World War
Or the village of Pussigny, which hosts each year an exhibition of "large-format" paintings hung on the walls in the streets.