Général
Joan of Arc on the way to Chinon and then to Orleans!
Joan of Arc set off from Vaucouleurs, a fortress near Domremy. Her epic adventure took her to Touraine with a few companions in arms, including Jean de Metz and Bertrand de Poulengy. She went to Chinon, but also to Sainte-Catherine-de-Fierbois, Loches and Tours. We take a look at the different stages in the epic career of the "Maid of Orléans" in Touraine.
The "Holy Adventure" of Joan of Arc
Joan of Arc was born in 1412 in Lorraine. She had an uneventful childhood in the small village of Domremy, until she began to hear voices in about 1425. The voices told her emphatically to drive the English out of France and to have the dauphin Charles crowned king. Charles was reluctant to assert his authority due to the Treaty of Troyes (the work of Philip the Good of Burgundy, the dauphin's enemy), which stated that Charles VI should be succeeded by his son-in-law, King Henry V of England.
After winning to her cause a local lord, Robert de Baudricourt, Joan left Vaucouleurs in February 1429. She crossed enemy lines disguised as a man and travelled to Chinon on a journey lasting eleven days. She passed through Auxerre and Gien, before reaching the town of Sainte-Catherine-de-Fierbois. One of the 4 historic trails to Santiago de Compostela passes through the town. Joan stayed there for two days. The pious young woman prayed in a chapel built by Charles Martel. A story says he had buried his sword in the chapel and Joan found it there. In fact, it seems that the sword belonged to Bertrand du Guesclin, and then to Louis I, Duke of Orléans…
At L'Île-Bouchard, Jeanne dismounted in front of the Romanesque portal of Saint-Gilles church and attended High Mass. It was her last stop before following the River Vienne and arriving in Chinon. At the foot of today's Rue Jeanne d'Arc, below the royal fortress, a panel informs us that it was at this spot that Joan dismounted.
Chinon: recognition of Charles VII
According to legend, to see if Joan was divinely inspired, the king and a servant switched roles at this first meeting. Despite the stratagem, the young woman from Domremy went straight to Charles VII without hesitation. She revealed that she must free Orléans, besieged by the English, and lead Charles to Reims for his coronation.
Joan stayed in Coudray castle. Her virginity was verified by an assembly of women, then Charles VII sent her to Poitiers so that his counsellors and theologians could establish her good faith. After this was done, and a month later, Joan of Arc returned to Chinon for a second meeting before leaving for Tours and Orléans.
We should also note that before the siege of Orléans, Joan of Arc and her companions in arms went to the Château du Rivau to pick up horses for the battle. The castle belonged to the lords of Beauvau and was particularly renowned for the quality of its war horses. Today, the staging in the castle stables and the summer jousting tournaments are a reminder of the fact.
Joan of Arc's stay in Tours
In the capital of Touraine, the charm of Rue Colbert derives in part from a few half-timbered houses dating from the 16th and 17th centuries. At number 39, there is a sign saying "A la Pucelle Armée" (To the Armed Maid) on an attractive timber-framed house. Here it is said that the armourer Colas de Montbazon made Joan of Arc's armour in 1429. For the 500th anniversary of Joan of Arc's visit to Tours, a plaque was also placed on the building's façade.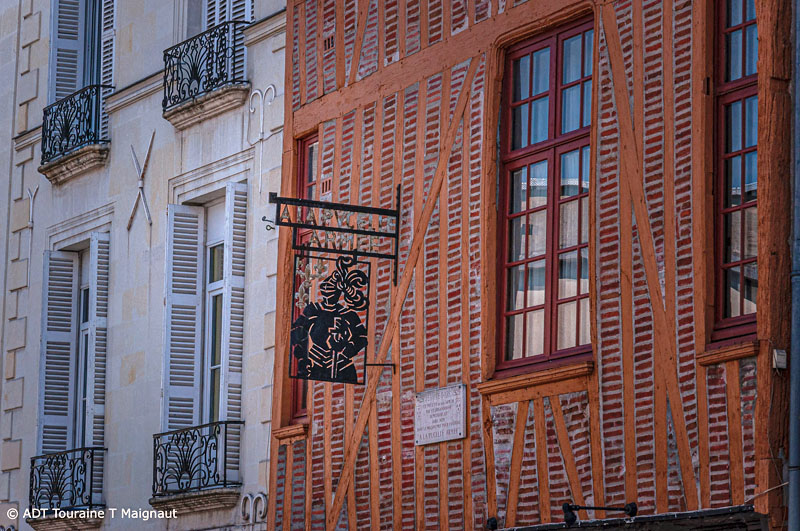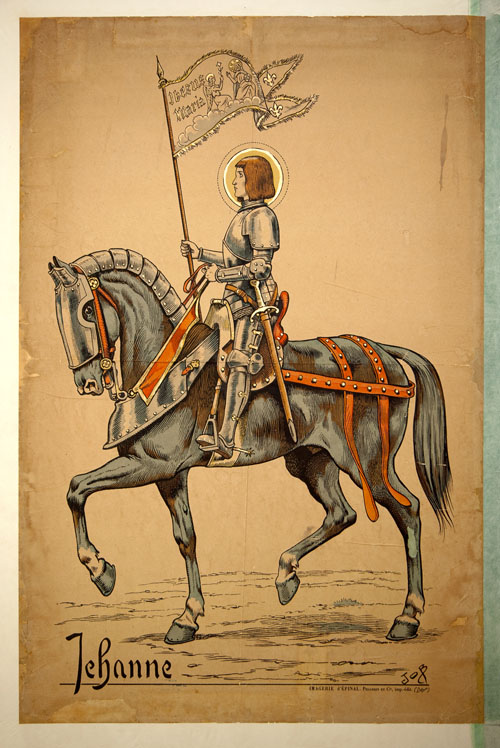 Joan's stay in Tours lasted for about one month. She stayed at the home of Jean du Puy and Eléonore de la Pau, respectively counsellor of Yolande d'Aragon (Charles VII's mother-in-law), and the lady-in-waiting of Queen Marie of Anjou (Charles VII's wife). Here, too, a plaque commemorating the fifth centenary of her visit is displayed to visitors at number 15 Rue Paul-Louis Courier, on the site of a medieval building.
Equipped with her armour, her sword and her standard (painted by the Touraine artist Hennes Poulvoir), Joan of Arc left Tours on about 25 April 1429, to join the convoy going from Blois to Orléans.
Joan of Arc in Loches
Twelve days later, Joan (called the "Armagnacs' whore" by the English, despite her French nickname, the "Maid"…) brought the siege of Orléans to an end, after restoring the confidence of the French soliders and the local population. She returned to Touraine in the company of the Count of Dunois. This time it was in Loches that she met Charles VII, on 22 May 1429, at the Royal Keep, to convince him to go to Reims for his coronation and in this way to discourage his opponents.
Along with an army of over 70,000 men to help him cross the regions controlled by the Burgundians, Charles VII finally arrived in the "Cité des Sacres" (Coronation City) and was crowned King of France on 17 July 1429. As for Joan of Arc, she set off to liberate Paris, but that's another story…