The GR3 long-distance trail, alongside the Loire châteaux
The GR3 path follows the untamed course of the Loire for almost 1,250 kilometres, from its source in Mont Gerbier-de-Jonc to the river mouth in La Baule.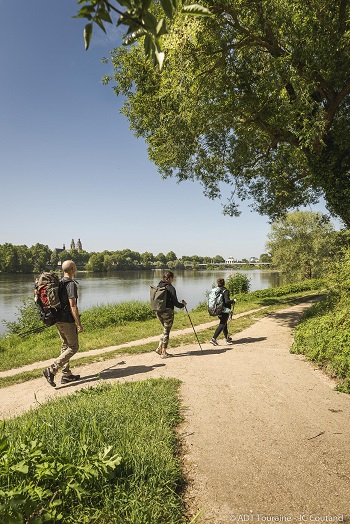 The first signposted long-distance hiking trail in France is marked by the omnipresence of the Loire castles, emblems of the classification of the Loire Valley as a Unesco World Heritage Site as a cultural landscape. In Touraine, the trail passes nearby the great Loire Valley châteaux, like the royal fortress of Chinon, Azay-le-Rideau, Villandry, Amboise and Clos-Lucé, among others. It also goes through Tours, the vineyards and the national forest of Chinon (within the Loire-Anjou-Touraine regional nature park).
The GR3 is also very popular with nature lovers, who can observe the many birds that have taken up residence on the banks of the royal river. In Amboise, Rochecorbon, Tours and Candes-Saint-Martin, you can board a traditional boat (a gabare or a toue cabanée): the captain will be sure to draw your attention to all the wildlife to be discovered. This is also the case in Chinon, but on the Vienne: in fact, the GR3 departs from the Loire from Tours to Candes-Saint-Martin, and goes to meet its tributaries which are the Cher, the Indre and thus… the Vienne!
Practical tip
La Balaguère, a well-known agency for those who enjoy walking and cycling in France and elsewhere, is offering an organised "Loire castles" holiday with 6 days of walking along certain parts of the GR3.
As with the Loire by bike, the route benefits from a very gentle terrain, which makes it accessible to the greatest number of itinerant walkers. Numerous accommodations (campsites, hotels, bed and breakfasts…) are available along the route. In Touraine in particular, the list of all the accommodation will help you plan your stops.
On the IGN (Institut national de l'information géographique et forestière) online shop, you can buy the GR3 map.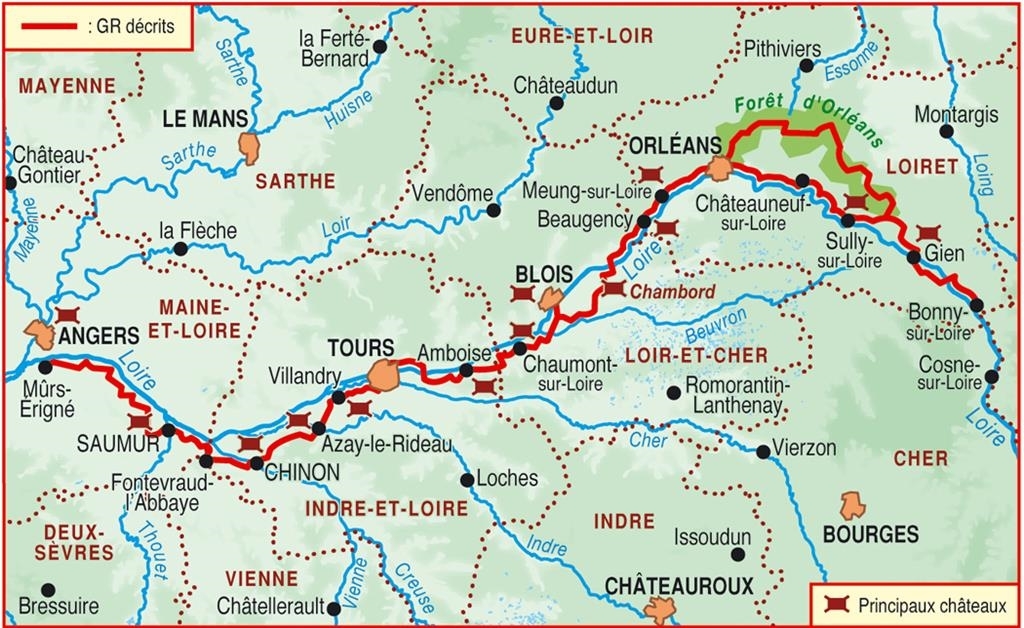 Also read: