Family holidays in Loire Valley, France.
We are all the same – we all want the best for our children. For them to have fun, breathe some fresh air, get some rest, learn new things… So, pack your bags, because Touraine is THE destination to delight all the family!
All wet at the Lac d'Hommes water park or at the Rillé wake park, in the middle of a treasure hunt or disguised as a knight at the Château de Gizeux, enjoying tree-top adventures at Baud'Rillé Adventure Park, Gadawi Park, Clic Lac and Saint Benoit l'Aventure or with your hair in the wind at the prow of a boat, there's a vast range of options in Touraine for children and teenagers.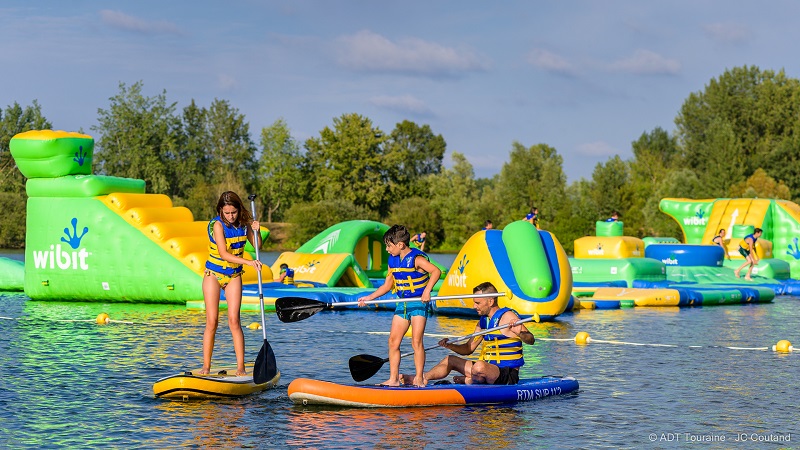 Much more fun than holiday workbooks, the Loire châteaux with their visits adapted to children are a way to bring history to life, from Anne of Brittany (Château de Langeais) to Francis 1st (royal Château of Amboise), via Joan of Arc (royal fortress of Chinon) and Leonardo da Vinci (Château du Clos Lucé). As for fairy tales, head to the Château of Ussé (the sleeping beauty castle!) and the gardens of the Château du Rivau.
To see them all at once, a little visit to the Mini-Châteaux Park is in order.
And if you want to go back in time long before the Renaissance and the Middle Ages, head south to the Prehistory Museum in Le Grand-Pressigny. You will be unbeatable about the flint!
Throughout the holidays: hiking, animals, swimming…
To get some fresh air and do a little exercise, but also to learn to find your way around a map as a scout, around forty short hikes are available. By bike, Touraine even has more than fifty loops, alongside major routes such as The Loire by Bike.
And there are plenty of other things to discover:
In fine weather, there's no doubt that the Family Park is always a big hit, just like Lulu Parc, near the Rochecorbon Guinguette.
If you are looking for peace and quiet, Touraine is quite a long way away from Ibiza and other hectic seaside resorts, so you can count on peaceful, restful nights. And if you make sure, too, that your little nippers eat five fruits and vegetables a day, then you will be well on the way to being the parents of the year!