Général
Specialities to get your teeth into!
"I'd never before had the good fortune to see this brown jam spread for me…". These few words written by Honoré de Balzac conjure up the image of a smile forming on the author's face as he contemplates a dish he's about to eat. And not just any dish – it was jam… made from pork! This potted meat is easy to spread and is perfect on a slice of bread or inside a fouée.
Rillettes de Tours
This delicacy, popularised by a famous brand from the Sarthe region, actually originated in Tours, in the 15th century. Unlike in more southerly regions, it was difficult to extend the shelf life of meat by curing it. To solve the problem, the people of the Loire Valley began to preserve their pork in fat.
What distinguishes Rillettes de Tours from Rillettes du Mans is that the Tours variety uses less fat and the chunks are a bit bigger. As we regularly hear on TV cookery programmes, it's got a lovely chewy texture! Rillettes de Tours is, therefore, a little darker in colour, brown. The dish has held Appellation d'Origine Protégée (AOP) status since 2013. You're sure to find it in local delicatessens such as La Maison Hardouin, and also in grocery shops and supermarkets.
On the same shelf, you'll no doubt also find rillons, chunks of pork belly cooked slowly and gently until caramelised. The recipe should also include Vouvray wine: the most local of ingredients!
Fouées and fouaces: party favourites!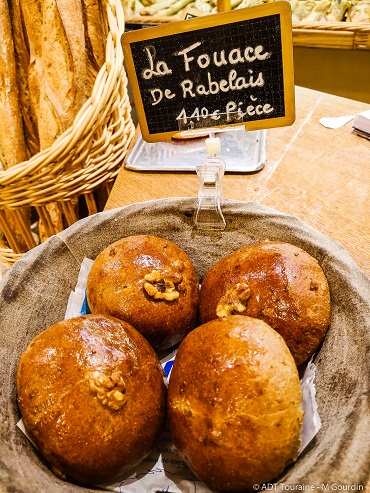 Other local specialities and another author. This time it's François Rabelais, whose novel Gargantua (1534) features the Picrocholine Wars which are triggered by a pitched battle between the fouace-makers of Lerné and Grandgousier's shepherds.
Fouaces are small brioche buns, garnished with nuts. They're so moreish that it's no surprise that people fight over them! To decide for yourself, simply pop into a local bakery such as "Le Fournil du Château", which is close to the Royal Fortress of Chinon, or the Briquet bakery in Lignières-de-Touraine.
Fouées, however, are more "basic" – flour, yeast, water, salt, and that's it. But you still need a wood-fired oven to bake them in! Originally, fouées were simply small discs of bread dough which were used to check the temperature of the oven before putting the bread in to bake.
They're best eaten hot, straight out of the oven, with rillettes or Sainte-Maure-de-Touraine cheese, broad beans or even jam. Go on, treat yourself:
Some local restaurants: La Cave aux Fouées and Ma Petite Fouée in Amboise, Dédé La Boulange in Chinon, or during a visit to the Goupillières troglodyte valley.
Some local events: the Grande Braderie de Tours street market in early September, and also in the summer during the Terres du Son music festival (with the La Fouée Gourmande food truck), during events at the Cave de la Sibylle wine cellar, or occasionally at the Véron Ecomuseum;
Accommodation: the owners of the Pic Epeiche group gîte can organise a "fouée" evening for you (advance booking required).