Général
"Agnès Sorel l'influenceuse" (Agnès Sorel the Influencer) Exhibition
In 2022, the Royal Chateau of Loches showcased Agnès Sorel, first official favourite of a King of France, in this year when the 600th anniversary of her birth will be celebrated. Born in 1422 into a family of minor nobility, she had a very good education in Anjou as a damsel-in-waiting to Isabelle of Lorraine, wife of King René. But there was another advantage that played a key role in her destiny: her beauty, which was second to none.
Between Charles VII and Agnès Sorel: love at first sight!
Pale blue eyes, very white skin: it was the most beautiful face that anyone had ever seen. This particularly attractive figure would not escape the notice of Charles VII, 18 years her elder, for long. She made her royal suitor wait for some time, but this only increased the attraction that Charles VII felt for her. She finished by yielding to him: it was difficult to refuse the King.
Agnès Sorel was not just another conquest for him. A deep connection developed between the two lovers. In order to keep her close to him, the King placed her in the service of Queen Marie of Anjou (whose features were far less attractive!) as a bridesmaid. This was a first step for her. She gave the King three daughters, who were officially recognised, and from 1444 she became the first official favourite of a King of France.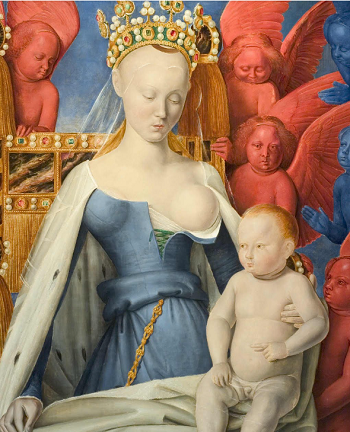 She particularly liked the Royal Chateau of Loches, and lived there even in the absence of Charles VII. Her presence was immortalised in a copy of a portrait painted by Jean Fouquet: the favourite appears with the features of the Virgin with the Christ Child, breast-feeding, almost a Madonna. The portrait combines the pious character of Agnès with her sensuality (the uncovered breast), her taste for good things (the ermine cloak), and her role close to the King (the crown placed on the head of the person who is … almost a queen).
Agnès Sorel beside Joan of Arc, Pierre de Brézé…
As the life of Joan of Arc was indivisibly linked with the destiny of Charles VII, so Agnès Sorel was also closely associated with the splendid period of his reign. According to legend, she told him that her astrologer (whose views were well-respected at the time) had predicted that she would be at the side of a great king, which led him to think that she would be at the side of the King of England. Stung by this, Charles VII then determined that he would confront his English rivals to liberate Normandy.
To do this, he relied on the help of a certain Pierre de Brézé, who pushed the army into using metal cannonballs to attack the English fortifications. Pierre de Brézé had the total support of Agnès Sorel, both in his capacity as principal advisor of the King as well as in his defence against the accusations levelled by the Dauphin (the future Louis XI).
… and Jacques Cœur!
Since she was conscious of how attractive she was, Agnès Sorel took a great deal of care of her appearance, plucking her forehead in the Italian manner and choosing outfits to make her stand out. She did not hesitate to break dress codes, introducing low necklines, playing with transparent fabrics, lengthening sleeves and lining them with fur, sporting long trains, and even had a whole extravagant wardrobe that she wore to a day of jousting. This inevitably generated condemnation from her enemies (the Dauphin, representatives of the Church etc), along with unflattering nicknames.
But this refinement influenced life at court, bringing about a change in feminine fashions, and masculine fashions too, giving rise to French-style "art de vivre" (art of living). A foretaste of this was the festivities of Francis I at the royal Chateau of Amboise and the splendours of Versailles!
Her friend Jacques Cœur brought her fine fabrics and precious stones (the beautiful Agnès was the first person to wear cut diamonds). He was a merchant who was the first to establish trading links with the countries of the Middle East (Syria, Lebanon etc), competing with merchants from Venice, Pisa and Genoa. Products from other countries brought a revival of prestige to the court, and Jacques Cœur soon amassed a colossal fortune. Named as Master of the Mint, his good management meant that he gave the King the means to fight the English during the famous Hundred Years' War.
Agnès Sorel's legacy
In 1450, Jacques Cœur's most important client succumbed to a "bloody flux" at Jumièges (in the Seine-Maritime département). Analyses carried out recently showed a concentration of mercury in her body that was considerably higher than normal. There is the possibility that she was poisoned, unless it was due to taking a remedy containing quicksilver.
It is certainly true that Charles VII chose the choir of the church of Notre-Dame de Loches (that has since become the Collégiale Saint Ours) as the site for the tomb of his favourite. Having been moved after the French Revolution to the "Tour de la Belle Agnès", then into the interior of the Royal Lodgings in Loches, her effigy was transferred back there in 2005, with two lambs at her feet, as a tribute to her forename ("agnus" is Latin for lamb). A few metres away, a statue of Joan of Arc seems to be watching over the person chosen by many of the great names of fashion as their muse – people like Yves-Saint Laurent, Helmut Newton, Jean-Paul Gautier or Alexander McQueen.
Practical information
Accommodation ideas: Hôtel Best Western Plus Cité Royale (4*), Le Luccotel (3*), La Citadelle campsite (4*), Résidence de Tourisme Pierre et Vacances, Bed & Breakfast Les troglos de Beaulieu and many others
Restaurant ideas: Arbore et Sens, Le P'tit Restau, Amore Mio, Le Prosper, La Loire en Tonneaux (wine bar) and many others
Visits, walks and activities in the surrounding area: the Lansyer house (museum) ; the Loches National Forest (explore on hiking trails, an 18km bike trail, or on an electric all-terrain scooter); the villages of Montrésor, Chédigny and Beaulieu-lès-Loches; the Châteaux of Chenonceau, Montpoupon and Bridoré; walk around the Etang du Louroux lake; the Spa Les Bains Douches ; the Naturéo Waterpark, and much more…
Photo credit (banner image): Indre-et-Loire Départemental Council – Loïc Lagarde