Général
5000m² of biodiversity in Huismes, near the Max Ernst House.
When our British neighbours were children, they spent their holidays on the banks of the River Loire, taking happy memories away with them. And the memories lingered, as they did with Mick Jagger, who years after camping holidays spent on the Ile d'Or in Amboise with his parents, set his heart on a château just a few miles away. Like the singer of the Rolling Stones, Coral Miles has settled not far from Montsoreau, a village she knew well, to make her dream come true and create a garden. And to link her life with the sweet region of Touraine!
Haute Couture Gardens: a big plant parade
And so, in Huismes, in a locality known as "La Couture", Coral conceived her Haute Couture Gardens. Between the River Indre and the big Chinon public forest, less than 3 km away from the Château d'Ussé, you can now visit an ornamental garden created from scratch in just 15 years around a lovely manor house.
Beginning with the existing terraces, the Scottish gardener designed her little biodiverse paradise, combining topiary, honey-producing plants, a collection of medicinal perennials, flowers and not forgetting ponds. Here you can hear the frogs croaking, the bees buzzing, the birds singing. Exactly what the owner was looking for, and even with something extra: she added a permaculture organic vegetable garden to the fruit trees. It's great for the appetite, gardening. 😉
And while "normal" admission is €5, it is free for customers of the bar, the restaurant or the bed and breakfast.
Tea room, botanical bar and bed & breakfast.
Along with "total immersion" English seminars during the week (https://englishmadeinfrance.com), Coral is now welcoming visitors at the weekend. The botanical bar and the restaurant are a chance to try out original flavours (a little cocktail with elderflower, for example). And why not spend the night? 5 elegant and cosy guest rooms are the ideal way to enjoy the site to the full. So now you just need to pack your bags for the weekend or schedule a professional seminar on the premises!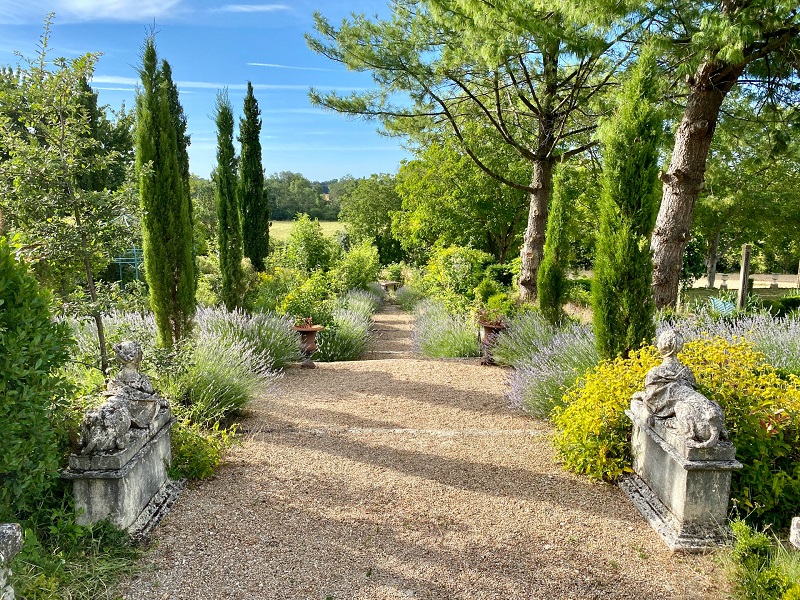 Nearby:
Contact
Les Jardins Haute Couture
7 Route de Rigny Ussé, in Huismes.
06 89 02 21 65