Général
The green path from Richelieu to Chinon
The highlight of this new route is undoubtedly that it connects two towns oozing history and heritage. But cycling and hiking tourists will be pleased to hear that the green path between Richelieu and Chinon rolls out an easy 20km carpet of calm among nature and culture with countless informative and educational panels and resources.
A trail among culture and nature
Richelieu's architecture makes it a unique start point. It was built between 1631 and 1642 and commissioned by the famous Cardinal de Richelieu, King Louis XIII's first minister. The town has a symmetrical design as you can see in the 18 manors on its main street. Explore ramparts, moats and gateways along with a large romantic park, Richelieu Museum and the Richelieu Centre.
There's no time to get bored on the trail. A dedicated app brings you amazing augmented reality experiences. 5 themed stops and 3 stations create focal points along the way. The station in Champigny-sur-Veude, a lovely and unmissable village (where you can have a picnic at its great fishing lake!), showcases stained-glass windows related to the Royal Chapel and flowers, particularly irises, whilst the one in Coutureau gives you a taster for the fabulous Le Rivau grounds, a must-visit site just off the green path.
The station in Ligré, a wine-making village that epitomises the Chinon designation, has just become a cottage and tourist information point. There are also charging stations for e-bike users.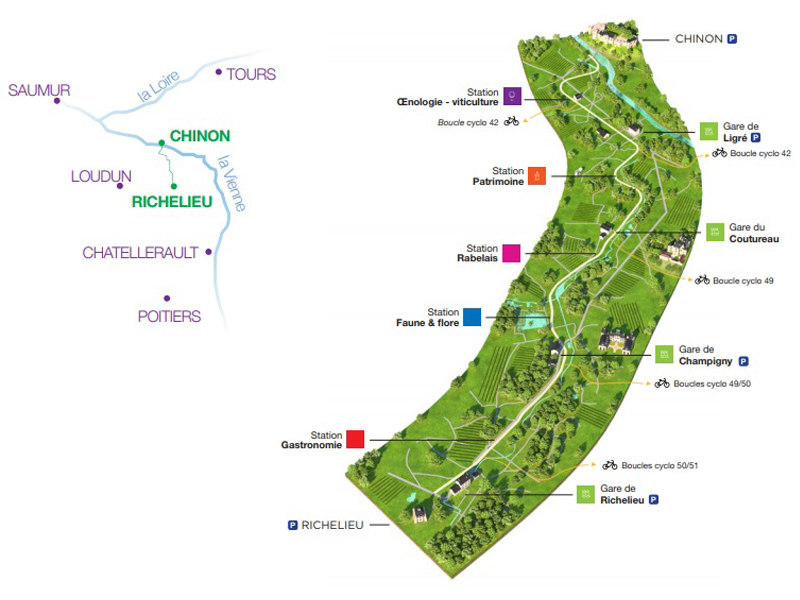 From the green path to the Loire by Bike
Fine food, wine making, heritage, natural sites and François Rabelais (with his iconic characters such as Gargantua in the lands of the famous Picrocholine Wars) are themes presented in the 5 stops before you reach Chinon and its legendary thousand year old fortress, an emblem of French history.
You can then hook up with the Loire by Bike route heading west towards Candes-Saint-Martin or east to the Château d'Ussé and regional capital.