Cycling Loire Valley: the Loire by bike trail
The great châteaux in Amboise, the Montlouis-sur-Loire vineyards, the pretty town of Tours, the gardens of Villandry, the châteaux of Langeais or Azay-le-Rideau, the royal fortress of Chinon… when you are preparing your break in Touraine along the Loire by bike trail ("The Loire à vélo"), don't forget, along with the distances to ride, to set aside time for sightseeing.
For accommodation, there are campsites, hotels and guest houses all along the Loire by bike route. Many of them have the "Loire à Vélo" label, which means they propose services adapted to cycling visitors, like luggage tranfer (Bagafrance…).
Practical tips to cycling Loire Valley:
Map of the Loire by bike route
Download a pdf of the "Loire à Vélo" route in Touraine:
Dynamic map of the Loire by bike route in the Centre-Loire Valley region
Distances
To prepare your stages and think about your accommodation and your visits in the Loire Valley chateaux, count on an average of 15 km/hour (around 9 miles/hour) and make your calculations using the distance table below.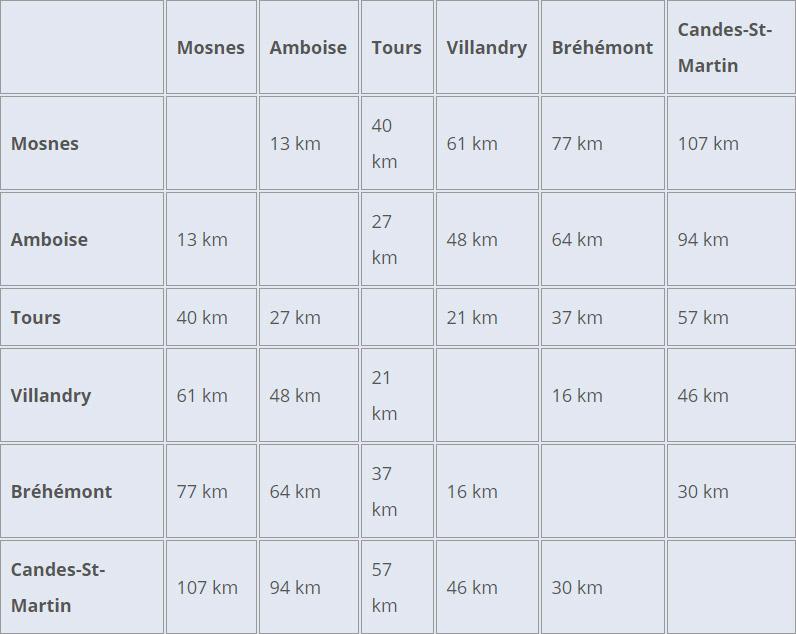 Logistics
To get to the starting point of your route, or to come back again (for instance, if you have to pick up your car), connecting train services run to the stations of Blois, Amboise, Tours, Chinon and Saumur. In summer, the Train Vélo Loire operation even lets you take your bike on some trains (with specially designed carriages) running between Orléans and Nantes.
Also in summer, you can add some variety by crossing the River Loire free of charge by boat near Chapelle-sur-Loire (on Wednesdays, Saturdays and Sundays in July and August). The crossing, run by the boatmen of Les Vents d'Galerne, will open up the way to the Bourgueil wine region, where there are several cycling trails: Au gré de la Loire & Grands Crus et Belles Demeures. On the www.marandoavelo.fr website, you can find the different circuits and routes criss-crossing the Loire à Vélo trail.
Taking you beyond Touraine, on the general website www.loirebybike.co.uk you can see the entire route from Cuffy (in the department of Cher) to Saint-Nazaire (Loire-Atlantique).