ours train station, motorways, airport…
With your car or by coach via the A10, A28 or A85 motorways, or by train via the stations of Tours, Amboise or Chinon? Whatever your choice, here is some information to help you get to your holiday in Touraine!
By train
It takes 1 hour by TGV to travel from Paris Montparnasse station to Tours station (a shuttle train links Tours and Saint-Pierre-des-Corps stations in 5 minutes). Other direct links are available to the Ile-de-France: Massy (Orly airport), Marne-la-Vallée (Disneyland) and Roissy-Charles de Gaulle airport. Approximate journey times with other provincial cities: Bordeaux (2h), Reims (3h), Lille (3h00), Metz & Nancy (3h30), Brussels (3h40), Lyon (4h), Strasbourg (4h), London (5h), Marseille (5h30).
From Paris-Austerlitz station, the journey to Tours on a Regional Express Train (TER) will take a little longer. Note that it stops at Amboise station. The TER also allows you to reach Langeais station from Nantes in 1h30.
See journey times, timetables and book your tickets: https://www.sncf-connect.com/
Getting around Touraine from Tours station
If you are staying in Tours, taking the train from Tours station is also a good option for visiting Amboise and its emblematic monuments, the castle of Chenonceau, the royal city of Loches, the royal fortress of Chinon, or the castle of Langeais.
Other possibilities: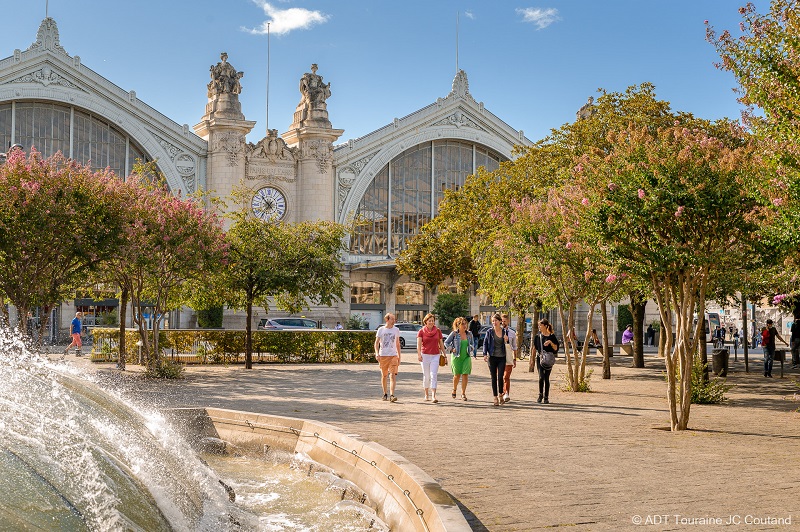 By road
Three motorways pass through Touraine: the A10 (between Paris and Bordeaux), the A28 (between Rouen and Tours) and the A85 (between Nantes and Bourges).
Practical tips: www.vinci-autoroutes.com
Here are a few examples of the distances from various cities to Tours: Nantes (222 km), Paris (238 km), Rennes (242 km), Rouen (274 km), Bordeaux (348 km), Dijon (419 km), Lille (460 km), Lyon (463 km), Toulouse (525 km), Montpellier (664 km), Marseille (798 km), Nice (955 km).
The coach companies Blablacar bus and Flixbus also run services in the city of Tours.
By plane
Tours-Val de Loire airport welcomes flights to and from London, Marseilles, Porto and Marrakech all the year round, plus Dublin in summer.
Taxis, rental cars and coaches are available on your arrival, taking you in less than 10 minutes to the town centre of Tours and the train station.
Practical tips: www.tours.aeroport.fr