Général
Greenway: on foot or by bike!
More than ever the series of lockdowns have made us want to get back to nature. And so with a strong thirst for a leafy setting we are starting to make plans for the simple fun of a day out in fields and forests, on foot or by bike. Between Descartes and Preuilly-sur-Claise, the first 26 kilometres of a green way (out of a total of 42 km) really hit the spot!
The South Touraine greenway trail
This is what the route will look like when it is completed, running all the way to Tournon-Saint-Pierre (and even, to be precise, a little further south, as far as the neighbouring village of Tournon-Saint Martin, in the neighbouring department of Indre). But this summer, the section to Preuilly-sur-Claise will make it possible to enjoy a range of cycling trails, since we all know that variety is the spice of life: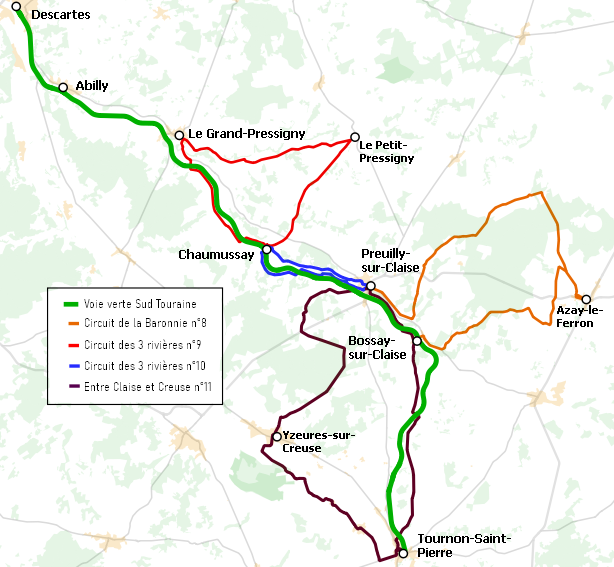 Example of a touring trip
On the railway line between Tours and Poitiers, you get off with your bike and luggage at Port de Piles station. After 10 kilometres of country roads, you arrive in Descartes, birthplace of the famous philosopher. There is of course a museum devoted to him here. And don't miss the beautiful René Boylesve botanical garden.
After this first stage, you set off along the brand new environmentally friendly cycling path. After crossing the big Claise bridge, you arrive in a charming valley, sometimes known as the little Dordogne of Touraine. Tuffeau stone, yellow ochre, flat tiles, archaeological sites, truffle farmers and foie-gras producers, it's all here! You will also see a series of stations and structures along the former railway line. Then, standing out against the horizon on a hill, the Grand-Pressigny Château-Prehistory Museum comes into sight. When you pass by the station, take a look inside. It is now the workshop and showroom for two designers: Mr Machin and Mme Truk!
The route continues east through the charming and attractive towns of Étableau and Chaumussay, located in the meanders of the River Claise. In Boussay, you will see the château that has proudly stood at the centre of the park for 1000 years. The last stage takes us to Preuilly-sur-Claise. The beautiful Romanesque church is a source of fascination with its spire covered in glazed Burgundy tiles, and the Château du Lion standing out on the top of the hill. You are then free to continue the adventure along the cycle paths, or even to go further afield towards the Brenne lakes along local roads.
A few places to stay along the South Touraine greenway:
A "classic" stay near the greenway
Of course, many of you will come here to get a little taste of the new trail during an outing for a few hours during a week's stay nearby. Alongside the points of interest mentioned above, there are plenty of other sights to see:
A few other places to stay on a week's holiday: Les Rioms campsite, guest rooms and gites at the Château de la Celle-Guénand, Les Viollières gite, La Villate, La Vallée: Le Four à Pain, La Savoureuse, Gite des Marquets, Le Martinet, La Carillonerie, La Petite Maison des Caremeaux, The Saule Gite, La Barillère, G Brunet Gîte, Gite de la Garbouillère, Relais du Pont Dormant, Les Petits Cigognes – Le Pluvier, La Villa Robespierre…
Special selection for large groups or families: Gite des Benestières (12 people), Grande Villa du Château de Tournon (15 people), La Bourelière (20 people) and the Comptoir et l'Aquarelle (22 people).
See too: the Richelieu – Chinon greenway