Général
The Royal city of Loches: a must-do with its new scenography
The keep in Loches, which was built between 1013 and 1035, is one of the best maintained from the Romanesque period of time. A thousand years later, a brand new audio-visual equipment is now offered to visitors wanting to wander around and discover the keep, the royal residence and the medieval garden.
Following Amaury and Emeline throughout the Royal city of Loches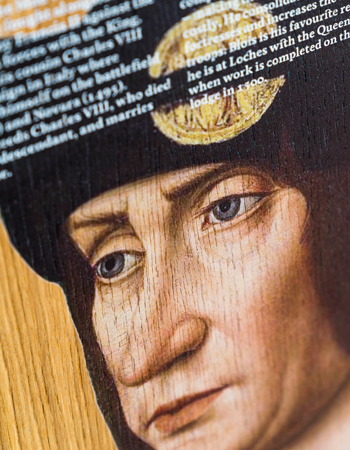 Illustrious characters punctuated the history of the Royal city of Loches, the first one being the Count of Anjou (also called Foulques Nerra), who started the building of the keep. Later, Charles VII, Joan of Arc, Agnès Sorel, Louis XI and Ann of Brittany contributed to the richness of this unique historical heritage built upon a rocky spur. They all have a common point: their rebellious personality!
You will have to follow Amaury, a young page and Emeline, a court handmaid to discover this new contemporary scenography made of tactile models, screenings, videos and sound systems.
Those two characters will lead you all along this innovative visit.
A keep, a royal residence and a garden
The keep is a real masterpiece from the 11th century military architecture. This 37 meter high square tower used to be a place of defense as well as a residence. Several sieges due to territorial struggles took place between the Plantagenet and the Capetian dynasties (12th and 13th centuries).
Through the centuries, many changes occurred at the keep like the royal residence with its facade overhanging the Indre valley. This small and precious piece of architecture which was built at the end of the Middle Ages (Gothic style and flamboyant gothic style) used to be the favourite residence of the Valois dynasty.
They would have undoubtedly enjoyed the medieval garden created 20 years ago according to original illuminations. Surrounded by the centenary stones of the Royal city of Loches, you will be seduced by a peaceful oasis with a pergola, grass seats and living wicker hedges. This is an ideal place for daydreaming, as it is full of stories, which make up the History of France.