A spectacular summer of Sounds and Lights shows!
When summer arrives, let the show begin! As soon as night falls, monuments buzz with cheerful yet refined excitement: here and there people patiently wait for the first sound and light shows to appear, heralding the start of the evening. Whether very contemporary creations or historical frescoes, these events reveal another face of the tufa giants, further magnifying their architecture through subtle lighting.
Sounds, lights and fabulous evenings!
As the sun goes down, visitors are immersed in a welcoming sweet, dreamlike atmosphere. In the gardens at Villandry, for example, we enjoy the countless candles that make up the fairy-tale decor of the nights of a thousand lights.
A perfect romantic outing, like the evening walks in the park of the Château de Chenonceau, set to the music of the great Italian composers of the Renaissance. On the other hand, don't miss a wine tasting underneath the stars, on Saturday 15th July, with the local wine growers of the AOC "touraine-chenonceaux".
At the château du Clos Lucé, two events have been announced: the "nocturnes théatrales" (adaptation of "Twelfth Night", by W. Shakespeare / 13, 15 and 16 July 2023), and the evening strolls on 11 and 12 August (musical and theatrical activities).
Historical shows
Many spectators discover during the summer the night show in Semblançay (Scénoféerie de Semblançay), which unfolds before our eyes the history of Touraine through the centuries. For the past 30 years, enthusiasts have been putting on about fifteen performances of this sound and light show each year, to the delight of audiences of all ages. Here is a small preview:
On the banks of the Loire, the Royal castle of Amboise will be the beautiful setting for a brand new summer night show, performed every Wednesday and Saturday: "Amboise, destinées royales"!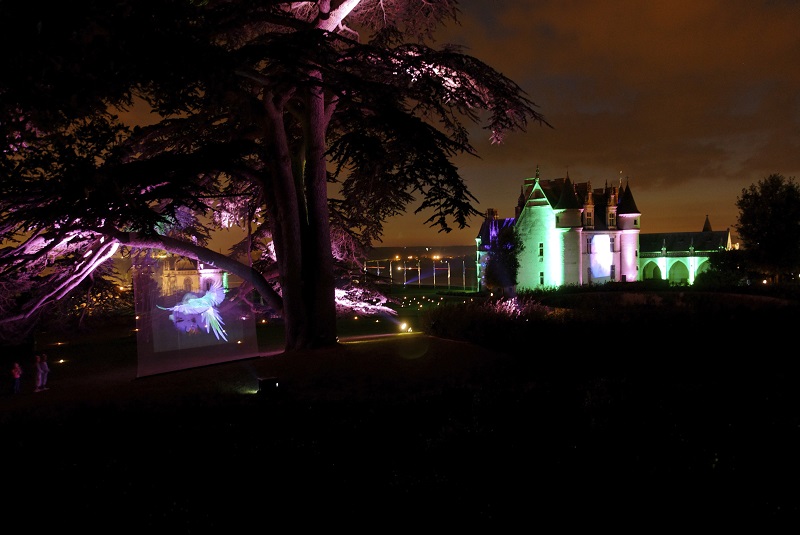 L'Islette by night
If the love story of Auguste Rodin and Camille Claudel, regularly hosted here, attracts a substantial number of visitors during the day, a large audience also converges on the Château de l'Islette in the evening. And for good reason! On the banks of the Indre, in addition to the Friday aperitif picnics, there are the magnificent "L'Islette à la belle étoile" evenings. Musicians play a large part.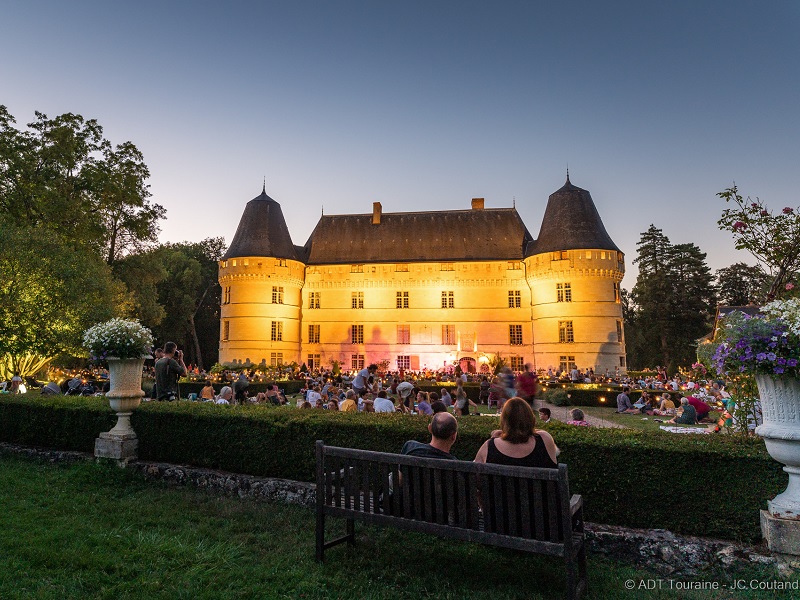 Nearby, the Château d'Azay-le-Rideau is also reviving the tradition of "nocturnes" for this summer of 2023. From 12 July to 26 August, on Wednesdays, Thursday, Friday and Saturdays from 7pm to 11pm, a new multi-sensory tour offers an unusual discovery of the monument. Let yourself be tempted by "Les Soirées d'Azay".
The solar nights of Montrésor
The event lighting can also be admired in one of the most beautiful villages in France, Montrésor. The solar nights reveal the beauty of a high perched castle, which you can visit during the day.