Direct from producer to consumer with the 'Bienvenue à la Ferme' network.
A morning spent at the local market is often one of the most pleasurable parts of your holiday. We pride ourselves on combining a useful experience with an enjoyable one. Stock up for a few days while discovering some local specialities. At a time when we are increasingly looking to consume more "local" products, more and more people are also visiting farmers who are part of the 'Bienvenue à la Ferme' network.
Launched in 1988 by the Chambers of Agriculture network, the 'Bienvenue à la Ferme' brand is in fact a pioneer in terms of short circuits. In Touraine, around fifty farmers proudly display the label. Below you will find a presentation about fifteen of these farms, which, in the same way as tourist cellars, will allow you to meet the people who put food on your plate.
Bienvenue à la ferme… – Morinières – Druye
Located between the Azay-le-Rideau and Villandry castles, David Jamenot processes poultry, pig, duck and lamb products. From ready meals to rillettes (potted meat) and other duck terrines,  there's no shortage of products to purchase and take home with you. In addition to direct sales, the Morinières farm also welcomes holidaymakers for fishing trips around a large pond, as well as  motorhome owners (from the France Passion network).
Direct farm sales: 
Mondays, Tuesdays, Thursdays, and Fridays from 9:00 AM to 1:00 PM and from 3:00 PM to 7:00 PM,
and Wednesdays and Saturdays from 9:00 AM to 1.00 PM.
Les Vergers de la Manse – Sepmes
Regularly awarded medals at agricultural fairs, this farm's fruit juices, nectars, compotes and other jams come from a 15-hectare orchard (apples, pears, quinces, raspberries, redcurrants, cherries, plums, blackcurrants, etc.). When the fruits are ripe, self-service pick-ups are also offered (please call for specific dates).
Shop opening hours for Vergers de la Manse :
Monday to Thursday from 9:00 AM to 12:00 PM and 2:00 PM to 6:30 PM
Friday: 9:00 AM to 1:00 PM and 2:00 PM to 6:30 PM
Saturday: 9:00 AM to 12:30 PM
La fromagerie Maurice – Neuilly Le Brignon
Supplying many Touraine shops (supermarkets, delicatessens…), the fromagerie Maurice is well known to people in the region. By visiting the site, you will find their range of dairy products: Touraine tomme cheese, rice/semolina puddings, fromage blanc, dairy desserts (coffee, vanilla, caramel, chocolate…), milk jam, yogurts…
Direct farm sales: all year round, Wednesday and Friday afternoons and Saturdays all day.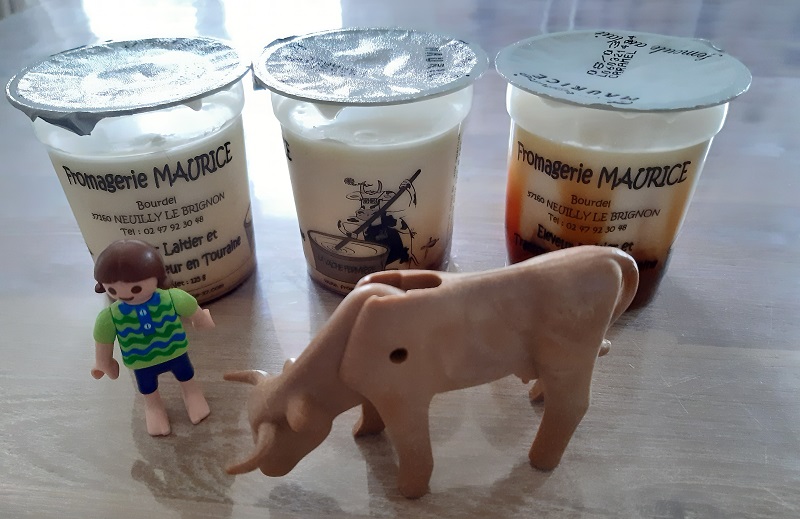 Bienvenue à la ferme… Limouzin – Le Petit Pressigny
In the very south of the Touraine, the Limouzin family produces fresh and matured goat cheese bearing the Sainte Maure de Touraine AOC label of origin, as well as beef and poultry.
Direct Limouzin farm sales :
Monday to Friday from 8:00 AM to 12:00 PM and 2:00 PM to 6:00 PM
Saturdays from 8:00 AM to 12:00 PM and from 3:00 PM to 5:00 PM
Sundays from 8:00 AM to 11:00 AM
Bienvenue à la ferme des Bournaichères, Maison Galland – Betz le Chateau
Lovers of cooked meats and ready meals (paupiettes au Vouvray (pork cooked in Vouvray wine), and civet au Chinon (pork cooked in Chinon wine…), should head south towards Loches and discover this family farm. If you're travelling by motorhome, you can also spend the night here.
Direct farm sales: from Monday to Friday from 8:00 AM to 12:30 PM.
Lait Grand Cru – Le Grand-Pressigny
If you're thinking of visiting the prehistoric museum in Grand-Pressigny or staying in the surrounding area,  take a detour to Sandrine Grateau's family farm. Fill your basket (if possible, a straw basket from Villaines-les-Rochers ) with raw and pasteurised milk, yogurts, cream desserts, fromage blanc or even some crème fraîche. Bon appétit !
Direct farm sales: every day from 8:00 AM to 1:00 PM. 
Au jardin de la Varenne – Rilly-Sur-Vienne
Not far from the Saint-Michel de Bois Aubry Abbey (where you'll find the grave of the Hollywood Actor, Yul Brynner), Amandine and Auguste are continuing with tradition by growing asparagus, while also diversifying their activity with other vegetables, eggs, wine, grape jellies, and jams… They also offer seasonal rental of their gîte (holiday cottage) which accommodates 12 people: la ferme des deux ifs.
Direct farm sales:
From 1st April to 30th September: every day from 6:00 PM to 8:00 PM
From 1st October to 31st December: from Wednesday to Saturday from 5:00 PM to 7:00 PM
Bienvenue à la ferme… EARL Champion – Beaulieu-lès-Loches
Fed with crops produced on site, when they are not grazing the meadows in the summer, the 200 goats on this farm allow Sandrine Champion to produce a wide range of cheeses (in logs of different maturity, pyramids, rounds, hearts, with Espelette chili, pepper… etc.) as well as yogurts (with natural goat's milk and vanilla) and puff pastries with goat cheese and potatoes.
Direct Champion farm sales every morning, from Monday to Friday, from 8:00 AM to 12:00 PM (and on the Loches market on Saturday mornings).
Le Vazereau – La Roche Clermault
Here too, goats' rule: the famous AOP quality-labelled Sainte-Maure-de-Touraine is a labour of love! To the south of the royal fortress of Chinon, the breeding on the Vazereau farm takes the form of an open building with pastures. Tourists have been welcomed on the farm for a long time. At certain times of the year, you'll have the privilege of buying "Chinonais with Touraine truffles": an absolute delight!
Direct farm sales: every day (except Sundays and public holidays) from 8:00 AM to 12:30 PM, and from 2:00 PM to 7:00 PM (closes at 6:00 PM from January to February).
Les jardins de Meslay – Parçay-Meslay
What could be more straightforward than picking your own? Les jardins de Meslay offer a wide variety of fruits and vegetables (and even flowers!) selected for their taste qualities and grown with respect for sustainable agriculture: carrots, cabbage, leeks, courgettes, potatoes, salads, spinach , green beans, peas, onions, tomatoes, squash, radishes, garlic, celery, apples, strawberries, pears, plums, rhubarb, blackcurrants, raspberries, blackberries, currants.
Opening of pick-your-own service at the farm: from mid-April to mid-November Monday to Friday from 9:00 AM to 12:00 PM and 2:00 PM to 6:30 PM. Weekends and bank holidays, open all day from 9:00 AM to 6:30 PM.
Les fromages d'Angel – Sainte-Maure-de-Touraine
In a woodland environment, Angélique and Christophe will be delighted to show you their goat farm on the family farm, which extends over 202 hectares. Obviously, you will have the opportunity to find out how the cheeses are made (AOP Sainte-Maure-de-Touraine, hearts, small logs, rounds, pyramids), before being able to enjoy a tasting session! Four motorhomes can be accommodated on site.
Direct sale of cheeses and some products from neighbouring producers (honey, oil, pâtés etc.):
Monday to Saturday from 9:00 AM to 12:00 PM and 5:00 PM to 7:00 PM.
Sundays from 9:00 AM to 12:00 PM.
Chant de Blé – Saint-Epain
Chant de blé, the story of a couple: Pascal, a farmer of 110 hectares for 25 years, and Véronique, a miller since 2011. Thanks to its Tyrolean mill, part of the wheat production is turned into flour, and there are also various farm products for sale (freshly-milled flour, culinary preparations made from flour and saffron, madeleines, cookies, gingerbread, cake…) as well as others from neighbouring producers (fruit juice, wine, jams…).
Direct sales at the farm: Wednesday afternoon or by appointment.
La Cabrett' du Viornay – Marcilly-sur-Maulne
After visiting the Château de Marcilly, which is open during the summer, why not come and see the Cabrett' du Viornay goats grazing. The visit (€3/person) includes a cheese tasting and a visit to the farm. Please note that goat milking takes place at 6:00 PM.
Bienvenue à la ferme: every day from 9:00 AM to 12:00 PM and 5:30 PM to 7:00 PM.
La Gâtine Laurentaise – Saint-Laurent-en-Gâtines
Welcome to la Gâtine Laurentaise! Aurélien and Mikaël welcome you to their charming farm where they produce flour from lentils, chickpeas, barley, buckwheat, sorghum, beans, and wheat. They also produce vegetable oils (flax, rapeseed, sunflower, etc.) and seeds/pulses (lentils, chickpeas, flax).
Direct farm sales : 
Wednesdays from 5:00 PM to 7:00 PM
Saturdays from 10:00 AM to 12:00 PM.
Bienvenue à la ferme… de la Gautraie – Sonzay (37360)
Originally from the Netherlands, the Kuipers family has been breeding dairy cows since 1993 and turns some of the milk into ice cream with multiple flavours. Something particularly appreciated by the people of Touraine! But in recent months, a new product has also won the hearts and stomachs of those who have tasted it: Gouda de Touraine cheese made from raw milk.
Direct farm sales all year round, from Wednesday to Friday from 4:00 PM to 8:00 PM.