Général
A new nugget in Amboise!
Amboise never ceases to surprise us. A few years ago, the doors of Château Gaillard, a small Renaissance palace not far from the Royal Château of Amboise and Clos Lucé, opened. In 2022, the Clos de la Richardière will welcome its first visitors. They will discover a place that is a bit secret, but that should quickly seduce a large public of lovers of good things.
A natural and gourmet address
Already the owners of the Galland store, the city's leading local grocery store, Christophe Galland and his wife Guylaine had the good idea of adding to the tasting of good products from Amboise and the surrounding area, a visit to a place with a lot of charm. The large alley planted with lime trees is a nice introduction.
A farm existed on this site, with a wine-making activity that lasted until 1959. It is now well and truly back with a plot of Chenin (emblematic grape variety of the Loire Valley) whose management is left to the good care of the students of the Amboise viticultural high school, in organic farming. This work of the vine is the subject of several explanatory panels, completed by the comments of Christophe or one of his collaborators. Pruning, bending, trimming, disbudding, lifting… we can see all the annual work necessary for the production of beautiful grapes. So many beautiful stages which upstream of the vinification, make the wine a fascinating product.
Tasting at the Clos de la Richardière wine press
Close to the vineyards, the previous owners have left their mark with a small remarkable arboretum. Numerous species cohabit and offer a remarkable diversity of shapes and colors.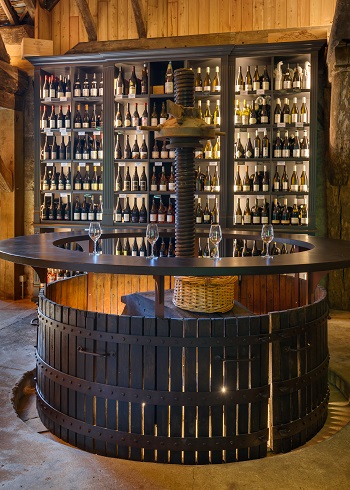 Christophe and Guylaine have undoubtedly left their imprint on the premises by renovating the old wine press, which has become the highlight of the visit. Pleasant and contemporary, the place is conducive to tasting the products selected by Christophe. The "standard" formula allows you to taste 4 different wines. Those of the wine school of course, but also for example :
To accompany all this, rillons, sausage, black pudding and other terrines from the Galland house (Christophe's brothers) are a perfect match for the goat's cheese also produced in Betz-le-Château. The "cookies of the castles" are made in Amboise. In short, all this makes for a very pleasant moment in a privileged setting.
Useful information
Guided tour from Monday to Saturday, at 11am and 5:30pm.
Price: 17€ adult / 12€ child
The Clos de la Richardière is on the itinerary of The Loire by Bike linking Amboise to Chenonceaux.