Général
Artists' studios open on the first Saturday of the month
Both close to and a little outside the centre of Tours old town, the Quartier des Arts has found its feet around Rue du Petit-Saint-Martin. Artists and craftsmen and women of all kinds find their inspiration here, and are gradually shaping the quarter's identity.
The multidisciplinary Arts District!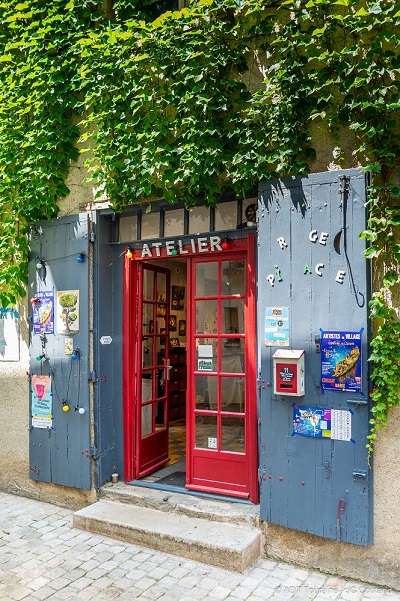 Stained glass, paintings, ceramics, jewellery… The studios – whether they have been here for over 30 years or only just opened – offer a whole host of things to see. And what could be better than a stroll in the old streets of Tours, close by the tourist areas, and enjoying a chat with men and women who love their crafts?! All over the district, you can see maps showing you where to find the workshops.
So you can follow a little trail along the cobbled streets with a chance to admire the charm of the attractive architecture (plus the small Carroi aux Herbes park in Rue de la Grille). "Le Petit-Saint-Martin" is the other name for the Arts District. It comes from the Petit-Saint-Martin Chapel, built in the late 14th century. It was sold as "national property" after the French Revolution in 1789 and is now used as an annexe building for the Fine Arts School in Tours. Makes sense, don't you think?
Around thirty artists
The Quartier des Arts association was set up in 2014 to form a collective. Today, the President is the painter, Laurent Vermeersch.
On the 1st Saturday of each month, the studios open to the public. Beginners' lessons, demonstrations, private views and open days are also organised all through the year (updates are published on their Facebook page). Step inside a studio, and you will find several types of art at the same time. The artists work in their studios, and some also host works by other artists.
Please note: the Quartier des Arts studios are not shops. The craftsmen and women and artists are ready and delighted to welcome visitors, but are sometimes at work, at exhibitions or the right in the middle of a creation, which means they may sometimes be absent. But not to worry, you will definitely find the door open later on!
Contact: lequartierdesarts.tours@gmail.com
Focus on Pascal Rieu, artisan glazier:
The Quartier des Arts in Tours, not far away from the Le Chien Fou restaurant.