Général
Hop on board a 2CV
Here, in the Loire castle kingdom, passion for heritage should never be taken lightly. We adore exquisite stonework of course, ever-so charming timber-framed houses, troglodytic dwellings and age-old vineyards. On a slightly different note, we also love seeing Citroën 2CV roll by on small country roads. So, hop on board, let's ride!
Touraine behind the wheel of a 2CV…
Around the world, the famous "deudeuche" (our affectionate nickname for the 2CV) is seen as one of our wonderful country's national emblems, on a par with our baguettes, our wine and our rooster. It goes without saying that its shape is incredibly appealing and the hum of its engine pretty much oneof-a-kind. When the weather's fine and the sunroof's rolled back, the world's
your oyster!
If you'd like to weave your way across Touraine on board a 2CV, two companies invite you to discover their services: 2 CV Tour's and 2CV Légende Organisation. For a cousinfest, a hen or stag party, an incentive-building day, or just for fun, discovery-rallies will take you on an adventure to visit the very best of Val de Loire with a carefully-developed road-book as your guide.
Fancy a treasure hunt?
To make your 2CV trip even more thrilling, you can also count on the expertise and fantasies of Touraine professionals. They propose a variety of treasure hunt formulas, comprising any number of stages, to solve the mystery, and provide you with maps and compasses. You'd never dream of a GPS in a 2CV, now would you?!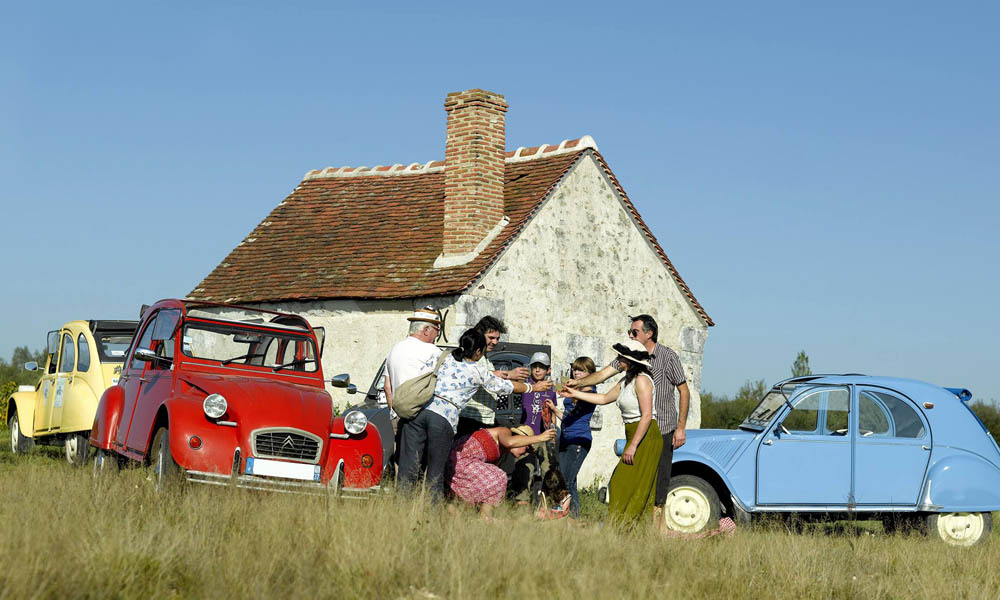 Good to know if ever you fancy a full day's fun in a 'deudeuche', picnic baskets can be taken on board for you to indulge in.
And, normally, no risk's involved: because in the 2CV design specifications, it stated that the car's suspension was made to cross a ploughed field with a basket of eggs inside the car without breaking any. Shall we bet?!
Practical info
2CV Tour's – +33 (0)6 22 66 26 52
2CV Légende Organisation – +33 (0)2 47 57 92 47
Photo credit for the first visual: Caroline Vignon.