The Ways of Saint-Martin
A Roman legionnaire who shared his cape with a poor man who was numb with cold, an evangelist, then the Bishop of Tours, Saint Martin is a major figure in Touraine. The Ways of Saint Martin are a chance to follow in his footsteps today.
The creation of the Ways of Saint-Martin
These footpaths bear witness to the saint's influence in Touraine, where there are 41 churches and several villages named after him, as well as legendary places associated with him in Tours (Marmoutier abbey, the Charlemagne tower, the Saint Martin Basilica in Tours).
To unite the towns linked to the life story of the bishop, the Saint-Martin de Tours European Cultural Centre has set up three signposted routes. These Ways of Saint Martin are actually local sections of much longer routes (Via Sancti Martini) between Tours and Szombathely (Hungary), Saragossa (Spain), Utrecht (Netherlands) or Trier (Germany).
The three Ways of Saint Martin
The Bishop of Tours Way (236 km, signposted from Poitiers station to Tours station) evokes the journey of Saint Martin to Ligugé Abbey, at the request of the inhabitants of Touraine, to make him their bishop.
Along the way: the village of Angles-sur-l'Anglin, the attractive, hilly landscapes of southern Touraine, the forest of Preuilly, Cormery Abbey.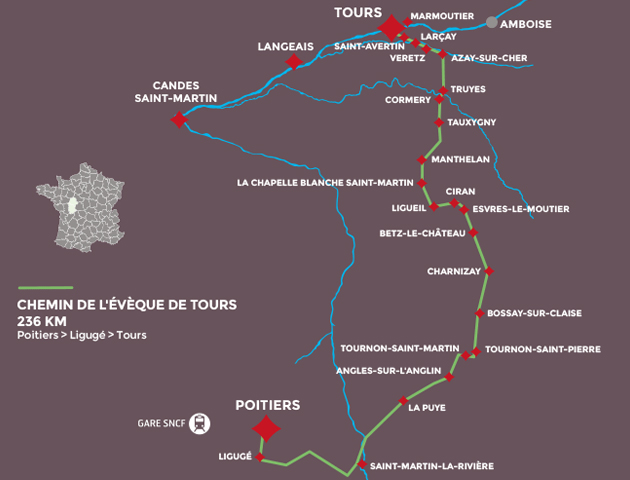 The Trier Way (138 km) recalls the story of Martin bringing the gospel to the countryside and his three meetings with the emperors in Trier (Trèves).
Along the way: Marmoutier Abbey, the River Loire, the Montlouis-sur-Loire wine region, the forest of Amboise, the royal château of Amboise, Clos Lucé.
Lastly, the Summer Way of Saint-Martin (114 km), leads hikers along the trail of the famous legend recounting how flowers bloomed out of season as his body was taken along the route.
Along the way: the royal fortress and wine region of Chinon, the village of Candes-Saint-Martin, the River Loire, the Château de Langeais.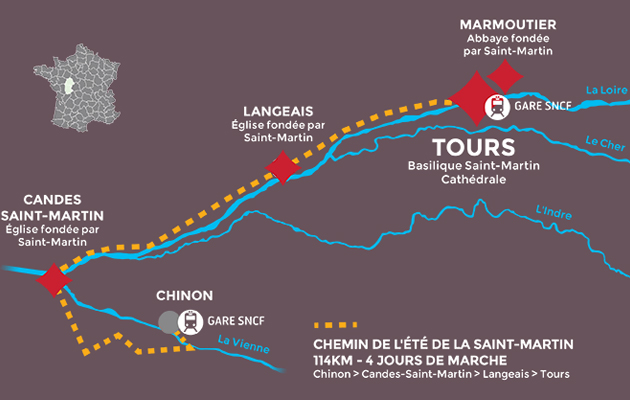 Practical tip
Information about the Saint-Martin de Tours European Cultural Centre: www.saintmartindetours.eu