Général
The gourmet break with Hubert Giblet*
He wasn't expecting it, but last January, Jérôme Roy was awarded a star in the Michelin guide. This was no surprise for anyone who knows and has followed the brilliant career of this native of Loches. But it was for him! All the same, he humbly but fully welcomed the award.
A Chef with both modesty and talent!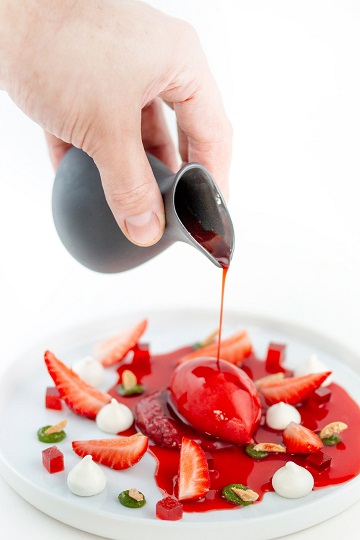 Jérôme Roy was so little expecting to receive a Michelin star this year that he didn't even watch the ceremony announcing the award. He was quietly having lunch with his family when friends phoned to congratulate him!
It's true, he had only come back to his native Touraine a few months earlier to open L'Opidom, his own restaurant (November 2019). It's true, it was not easy to attract attention during the time of covid… But he had the talent and had already won recognition in some great restaurants. In a few words, and skipping over a few periods (time spent in Tokyo, London, Moscow and Geneva, in particular), here is Jérôme Roy's brilliant career:
Vocational diploma in cookery at the Lycée Bayet in Tours, plus a diploma in pastry cooking in 1997.
From 1999 to 2001, he worked with Thierry Marxin Cordeillan-Bages and was promoted from assistant to line cook at the Mandarin Oriental Paris.
From 2001 to 2006, he learned his trade as a chef for none other than Michel Troisgros.
Next, another legend of French gastronomy, Pierre Gagnaire, appointed him as chef of a restaurant he opened in Courchevel (Les Airelles)
In 2008, still with Pierre Gagnaire, Jérôme went to Seoul to launch the restaurant at the "Seoul Hotel Lotte", then, in 2010, to St Tropez, at "Colette by Pierre Gagnaire"
In 2012, Pierre Gagnaire appointed him chef at the "Couvent des Minimes" in Mane (Alpes-de-Haute-Provence)… where he won, among other awards, a Michelin star in 2016!
But the Chef Jérôme Roy is still surprisingly modest. Fleeing the spotlights, when he is not enjoying sacred time with his family, he focuses on his cooking, trying things out, continually fine-tuning his recipes…
A culinary experience not to be missed!
Some people don't dare set foot in a Michelin-starred restaurant, it's "another world" for them… If you are one of these people (but also if you are not), you should still go to L'Opidom in Fondettes: you will receive a warm and simple welcome from Valérie, the Chef's wife. You will then feel right at home in the simple, cosy atmosphere. The waiters and waitresses are not at all prim and stuffy, but friendly and quite relaxed, while being attentive to diners.
In short, people feel good at L'Opidom! And when the appetisers arrive on the different plates, then they feel even better!
I will make your mouth water by revealing the gourmet menu I chose last summer… Well, I didn't really choose it, since the five-course menu is concocted by the Chef according to the market and his intuition. So it's always a surprise!
On this particular day, after the appetisers, which were obviously excellent, we were served:
Little tunny ceviche, fishbone infusion and oriental condiment with a sea asparagus salad
Whelk fricassee, fried foie gras, almond milk with plant plankton
Roast pigeon with Sarawak black pepper, potato mousseline brûlée, candied lemon and rocket
Sainte Maure de Touraine, pesto with fresh herbs, raisin paste with balsamic vinegar
Strawberry crisp, rhubarb compote and jasmine tea cream.
Plus a post-dessert drink!
Everything was very well presented and absolutely delicious. Originality, subtle flavours and combined ingredients, exotic touches, precise cooking times, wines to match the dishes: everything came together to make for an unforgettable experience.
Personally, this was the first time I'd tasted whelks except on a seafood platter. But what an experience: a very daring – at first glance – marriage between foie gras and almond milk with plant plankton, but what a success! If this star dish is on the menu when you go to L'Opidom, I really recommend it.
Jérôme Roy always sees his cuisine as light, natural and generous. But also very precise. He has his own herb garden, combining herbs with surprising meticulousness: 27% of his "house" herbes de Provence come from 3 varieties of different plants and 19% from a fourth!
Very much a man of his time, the Chef prefers local, fresh and therefore seasonal ingredients. But though he uses a lot of ingredients from Touraine, thanks to his experience in the south of France or abroad (and carefully chosen suppliers), he adds original and subtle touches to his creative cuisine. So to see if what I say is true, book your table at L'Opidom!
L'Opidom
4 Quai de la Guignière 37230 Fondettes
+33 (0)2 47 35 81 63 / contact@lopidom.fr
www.facebook.com/LOpidom-Restaurant-103432831543429
Open from Tuesday to Saturday, from 12 noon to 1:30 pm (last order) and from 7:30 to 9:30 pm (last order)
* Hubert Giblet, gourmet and food-lover, is head of the Automnales Gastronomy Festival for the Val de Loire Terres de Gastronomie association and the Azay-Chinon Val de Loire Tourist Office.