Général
The Roaring Twenties at Montpoupon Castle
It looks haunted. It is in a way but you won't see any ghosts. That said, you can really sense the presence of Château de Montpoupon's former residents as you wander through the rooms, so much so that you think you're going to run into them at some point!
Montpoupon Castle and the Motte Saint-Pierre family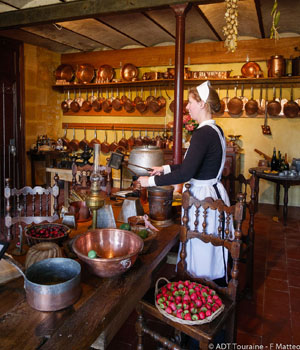 Montpoupon Castle was bought in 1857 by Jean-Baptiste Léon de la Motte Saint-Pierre during the Renaissance. Emile, Bernard and Solange de la Motte Saint-Pierre succeeded him and left their mark here. Madame's chambermaid 100 years ago, Louise reveals the château's secrets during a one-of-a-kind tour!
After exploring the Amboise room, dining room, kitchens and Marshal's bedroom, visitors are let into the the family's private apartments. They're whisked back to the early 20th century in amongst period furniture and, most importantly, countless personal belongings. Clocks, shoe accessories, hat, suitcases, toiletry cabinet, perfumes, handset, typewriter, Hermès fashion accessories and more all encapsulate the family's elegance and chic lifestyle.
Next stage of the tour
The next stage of a trip to Château de Montpoupon explores the world of hunting with hounds and stables. 30 galleries display harnesses, carriages and saddlery. In the realm of hunting, the horse reigns supreme!
Outside, educational panels pepper a forest footpath in the grounds. The wildlife living here is presented in a family-friendly way along with the different tree species on-site. A water mirror on the edge of the woods provides the perfect spot to take a photo of the lofty little gem that is Montpoupon.