Général
Meeting up in the vineyards
And to be exact, in the vineyards of Vouvray! Starting from the Domaine Alain Robert, the enthusiastic Myriam Fouasse-Robert will introduce you to the big and small secrets of a wine that has found fame far beyond the banks of the Loire.
Tastings and special events…
After teaching English for a number of years, the world of winemaking finally caught up with Myriam. As the granddaughter and wife of winemakers, she has been organising workshops, tastings, special events and gourmet walks since 2014.
The fun-packed programme entitled "rendez-vous dans les vignes" ("meeting up in the vineyards"), takes place mainly in Chançay (20 kilometres from Tours and 15 kilometres from Amboise), but can also be organised elsewhere, including on board a traditional boat for the tastings on the Loire.
After reserving beforehand, you set off for a delicious walk in the vineyards, including a tasting of 4 Vouvray wines (duration: 3 hrs / adults: €30 / children: €12.99), unless you opt for another package that is always a big hit: "in the vineyards at dusk" (duration: 3 hrs / adults: €36 / children: €20). A wonderful experience to enjoy!
The Alain Robert winery, in the network of wine cellars open to visitors.
From just 2 hectares in 1973, there are now over 37 hectares producing Vouvray, Crémant de Loire and Touraine wines at the Alain Robert Vineyard. As is often the case in Touraine, the wines are matured in the shelter of a troglodyte cave, which is also open to visitors.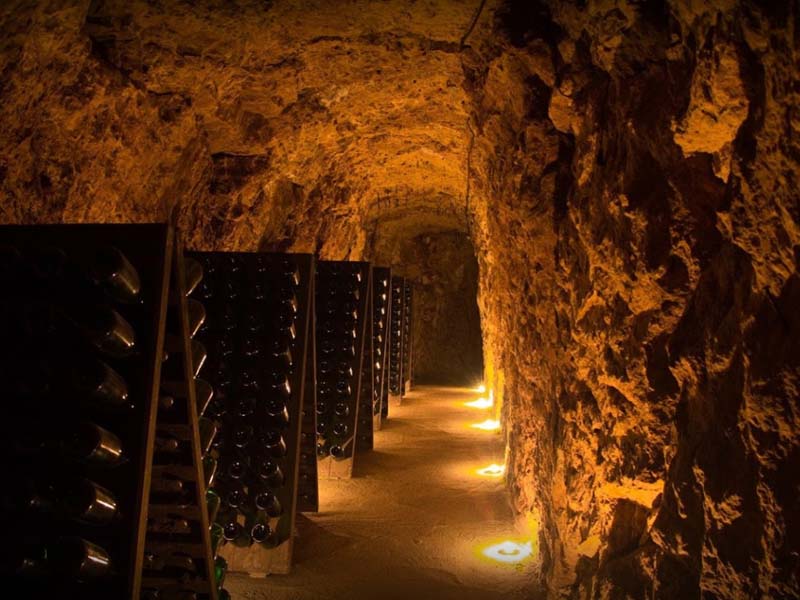 The sparkling wines are perfect for a pre-dinner drink and with desserts, while the still wines (dry, medium-dry and sweet) will open up plenty of options for food and wine matches. And it is even more fun when you know about the origins of the wines on your dining table!
Even more fun
Among around the one hundred or so, Touraine wine cellars open to visitors and specialised in Vouvray wines are Château Gaudrelle, Blanc Foussy – Les Grandes Caves Saint-Roch, Vigneau-Chevreau, Benoit Gautier, Le Capitaine, Château de Moncontour, Nicolas Brunet, Vincent Carême…