Général
The Grand Aquarium de Touraine
A unique sensory trail awaits among aquatic habitats, where you can dive into the Loire, explore mangroves, get up close and personal with sharks and become submerged in seas and oceans.
In a 30-metre long tunnel in the heart of the Grand Aquarium de Touraine, you can discover the largest species of fish living in most of the River Loire (pike, zander and black bass) and in the lakes. At the touch pool, reach in and stroke the Koi carp, something our youngest visitors in particular really enjoy.
In the semi-darkness under the silhouette of a model of Bir Hakeim Bridge, you catch a glimpse of the huge giant catfish, a silent, twilight world where you can watch the eels furtively emerging from their hiding places.
Next come the tropical zones, the caiman crocodile nursery, the discus and piranhas, the coral reefs in the corridor of portholes and the famous marine tunnel with 15-metre long sharks, displaying species from the Indo-Pacific seas and in particular the Australian Great Barrier Reef. The blacktip and silvertip sharks glide above your head and among multi-coloured fish such as doctor fish, butterfly fish, triggerfish and damselfish – such an amazing experience!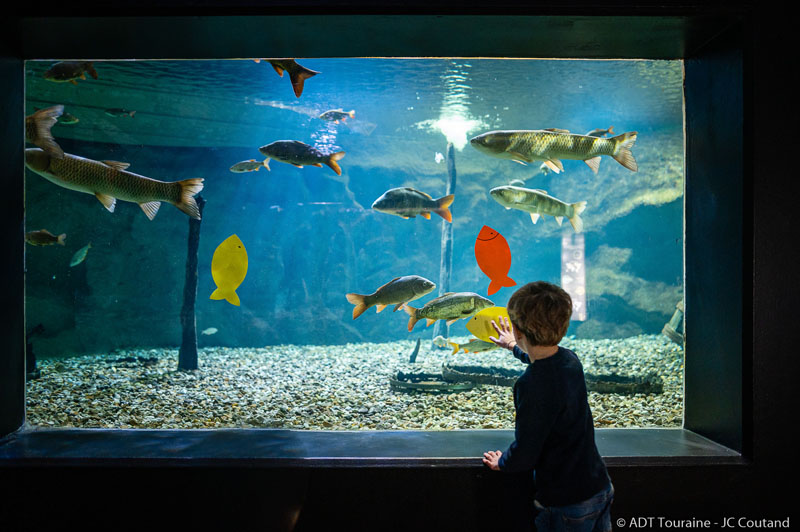 Bonus
Located near Amboise and welcoming almost 100,000 visitors a year, the Grand Aquarium de Touraine will be celebrating its 30th birthday in 2024! Over the course of this long experience, a number of new ideas have been developed alongside the classic visit:
the Lab: for 45 minutes, a caretaker explains his or her tasks and what goes on behind the scenes in such a facility.
Animal keeper for a day: available from 9.30am to 12pm, this option includes feeding, cleaning the tanks and explanation about how different species reproduce in the tanks… a great gift idea for animal lovers!